Amazon to shut three UK warehouses, putting 1,200 jobs at risk
Closure of facilities in Doncaster, Hemel Hempstead and Gourock comes as retailer opens sites in Peddimore and Stockton-on-Tees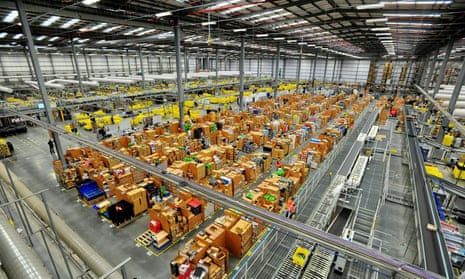 Amazon has announced plans to shut three of its 30-plus UK warehouses, affecting 1,200 jobs.
Workers from the facilities in Doncaster, Hemel Hempstead in Hertfordshire and Gourock in western Scotland will be offered roles at other Amazon locations.
It is thought unlikely that many of the 300 workers at the Gourock site will want to relocate as there is not another Amazon facility nearby, as is the case with the Doncaster and Hertfordshire factories.
The closures of the older sites come as Amazon prepares to open new delivery warehouses in Peddimore in the West Midlands and Stockton-on-Tees, County Durham, which will employ 2,500 people.
Amazon said the company remained "committed to our customers, employees, and communities across the UK".
A spokesperson said: "We're always evaluating our network to make sure it fits our business needs and to improve the experience for our employees and customers.
"As part of that effort, we may close older sites, enhance existing facilities, or open new sites, and we've launched a consultation on the proposed closure of three fulfilment centres in 2023."
The potential job losses come after Amazon announced last week that it planned to cut 18,000 jobs around the world – mostly in its head offices – in an effort to become more efficient under Andrew Jassy, who took over as chief executive in summer 2022.
The changes come as shoppers rein in spending and the online retailer faces an uncertain economy globally. The company also taken on staff in recent years as it has expanded into new fields, including groceries, own-label technology and fashion.
Costs at Amazon's warehouses and delivery operations have risen as shortages of workers, especially for skilled roles such as forklift truck and heavy lorry drivers, have forced the company to increase pay.
Workers at the company's vast depot in Coventry are poised to go on strike on 25 January demanding pay of £15 an hour, after securing a historic yes vote in a ballot for industrial action.