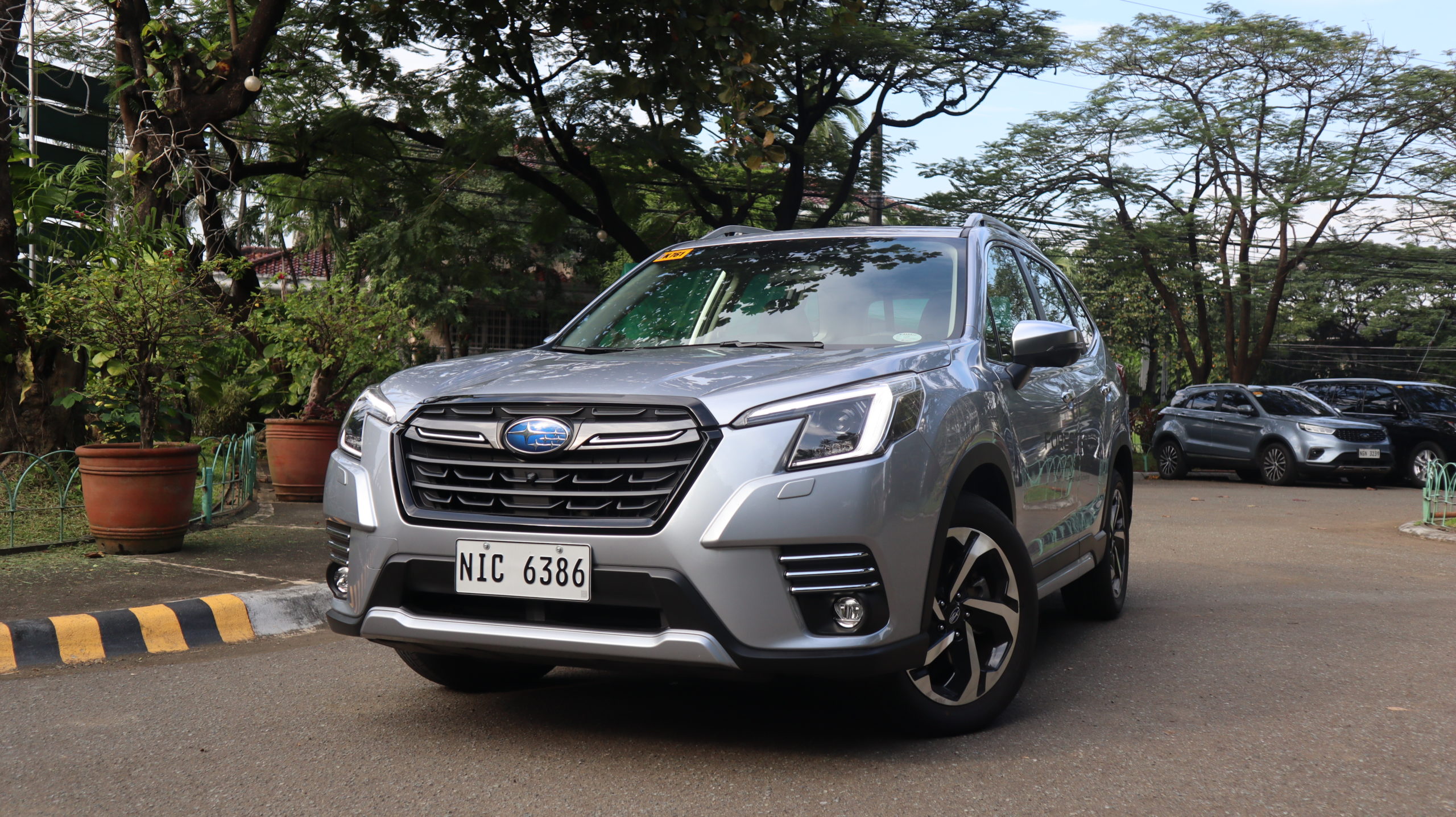 We unexpectedly had the refreshed 2023 Subaru Forester 2.0-iS EyeSight in our hands for a quick review. However, this was the time that Typhoon Paeng hit the Philippines with full force and we realized that the vehicle was in its element; back to its legendary AWD roots in this scenario. So the question remains: does the modern-day Forester maintain the ruggedness of its iconic predecessors, or has modernity and styling worn it down to marketing lingo?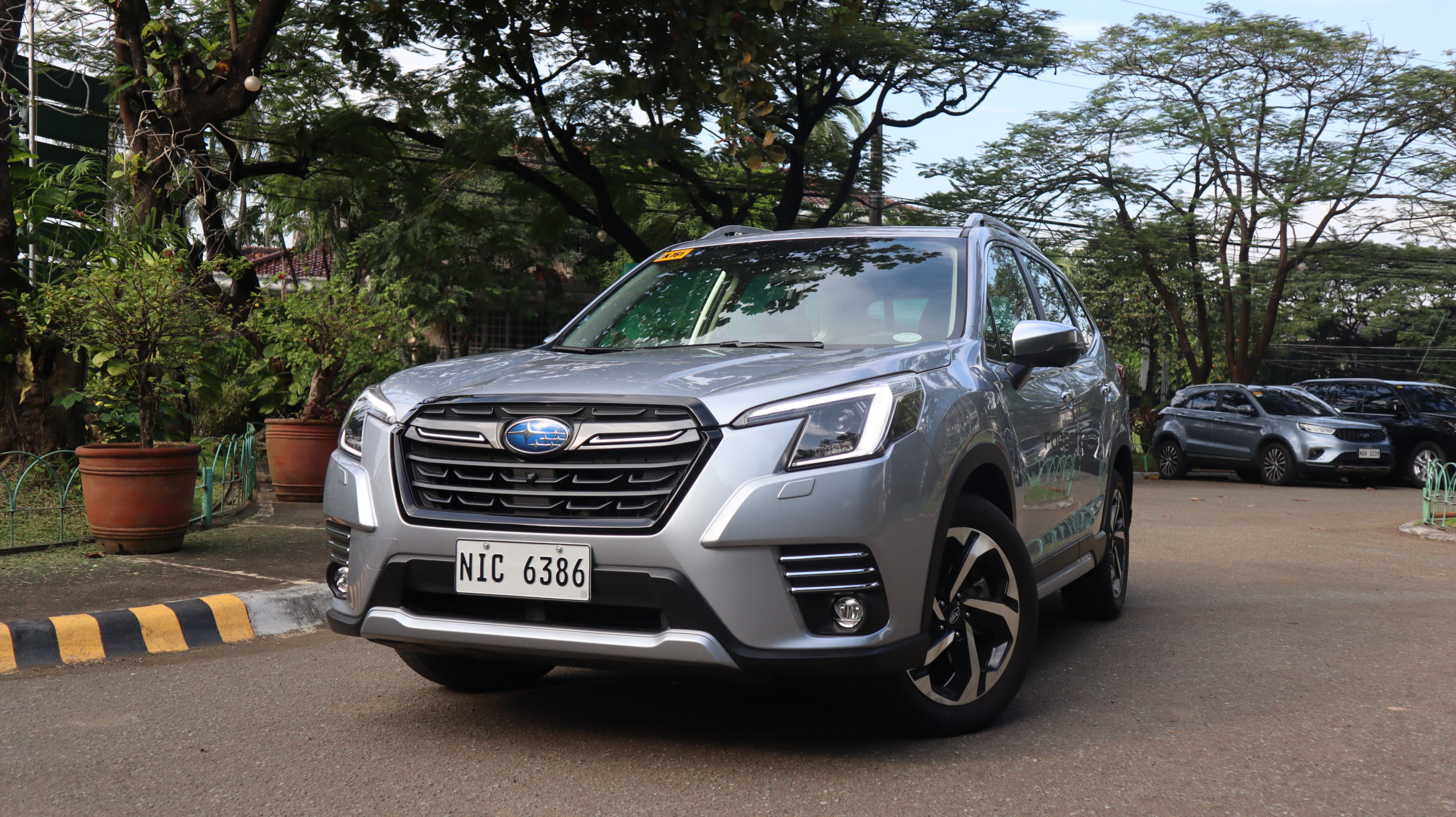 The Calm Before The Storm
Earlier that day, the rain warnings on our smartphones were aplenty but the weather itself was still reduced to a mild drizzle with no signs of wind. The S/O and I decided that a quick rainy-day ramen run at night would be perfect for the climate. As a previous owner of an XV (Crosstrek for our international readers) and an STi, I was wholly confident in the Forester's capabilities to handle these minor hurdles.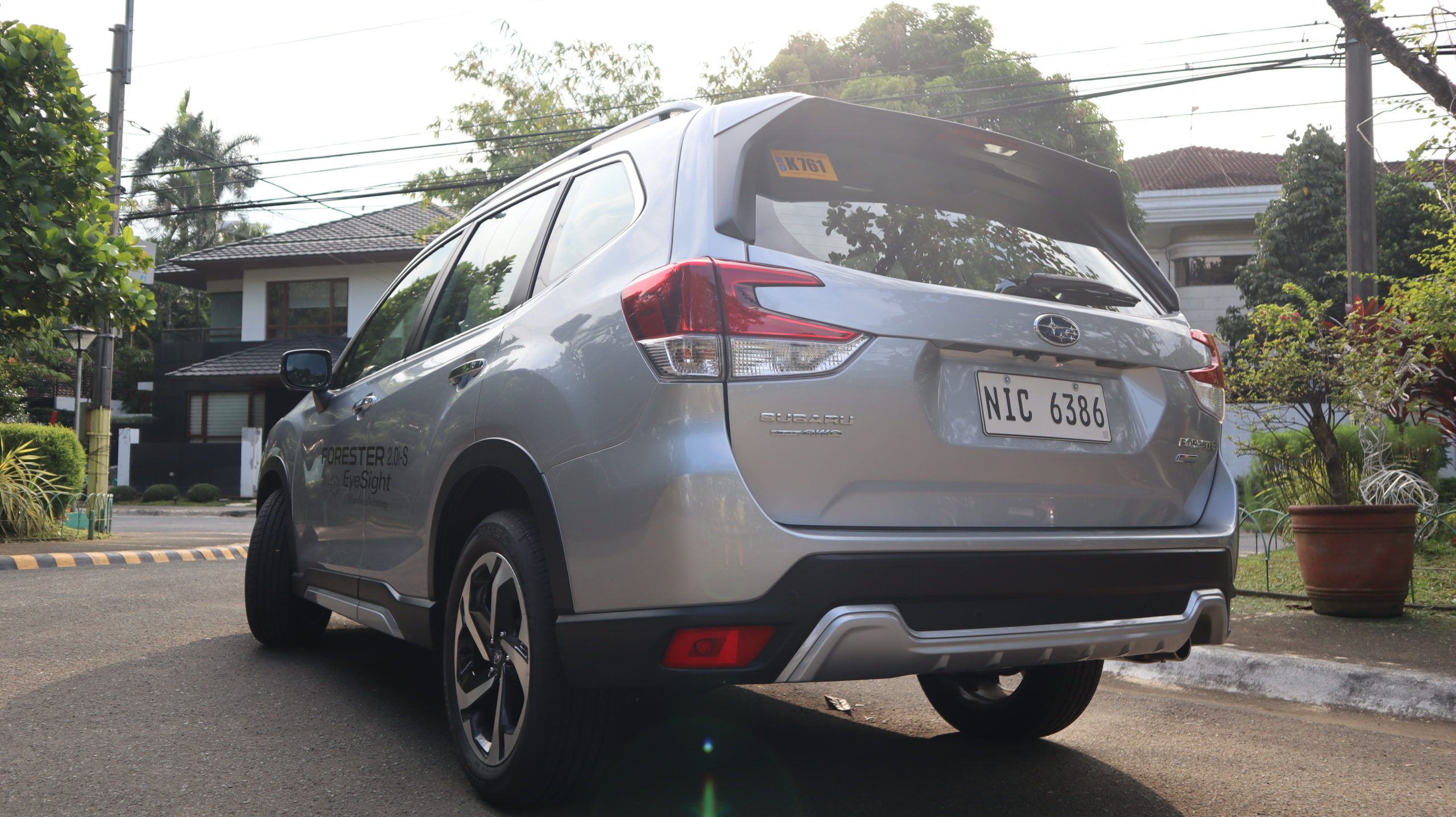 Before I left for my drive, a walkaround of the vehicle was necessary to observe the visual changes from previous models. There is no doubt that the Forester is unmistakably a Subaru design. There's just something about the way it looks that reminds you of its lineage. The active LED headlights and foglamps add a touch of modernity to its front fascia, complemented by a sizeable front grille with the brand's signature starry logo gracing the center. It's modern and rugged outdoorsy at the same time – which is a great balance.
The same can be said about the rear. There are no lightbars here, but the sharp angles in the rear lights give it a bit more personality. With the Symmetrical AWD logo boldly shown on the rear for everyone to see, you know that the company is proud of its award-winning, legendary system.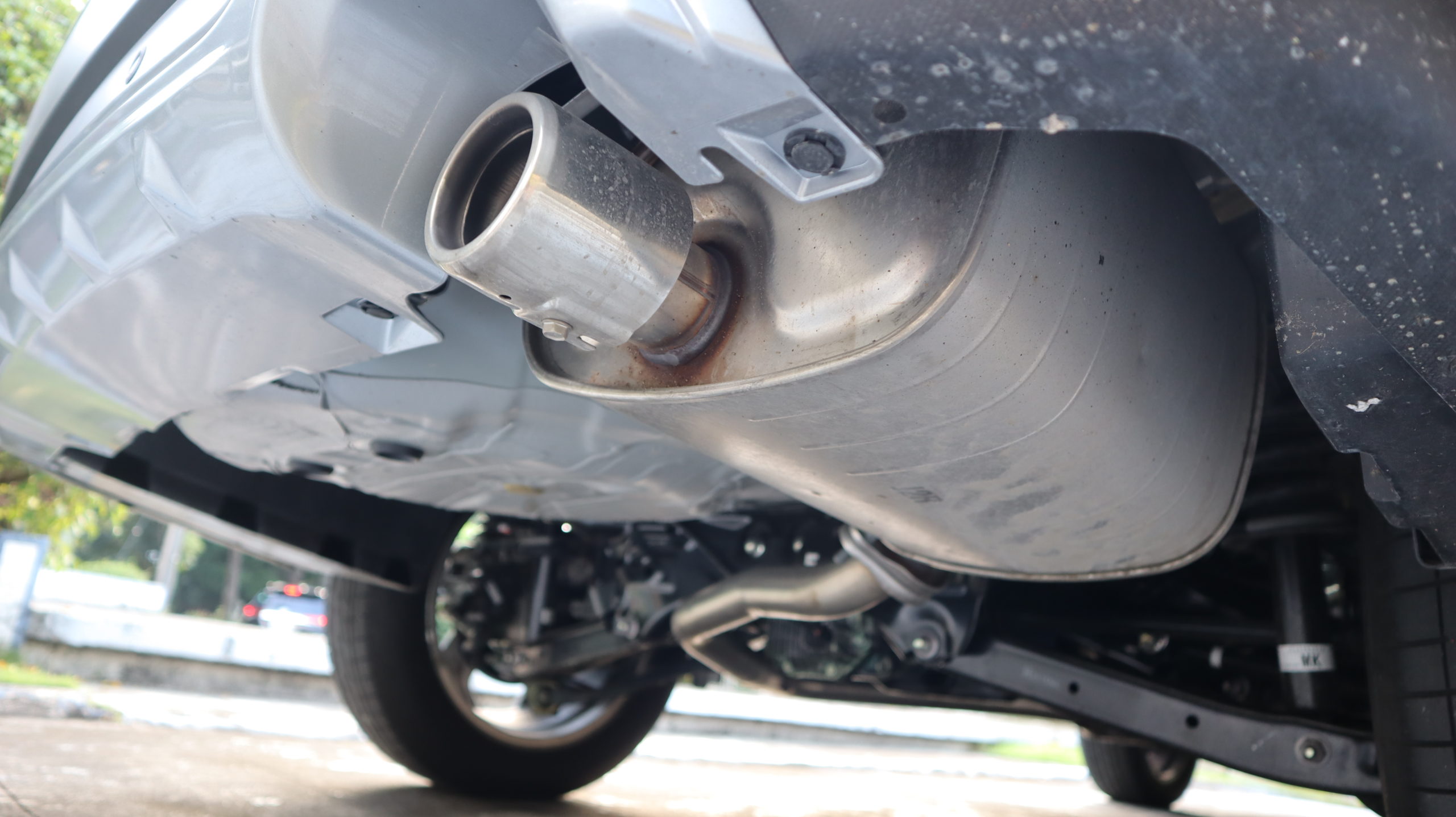 The single-exit exhaust is a no-frills one. No fake gaudy exhaust tips or anything of the sort.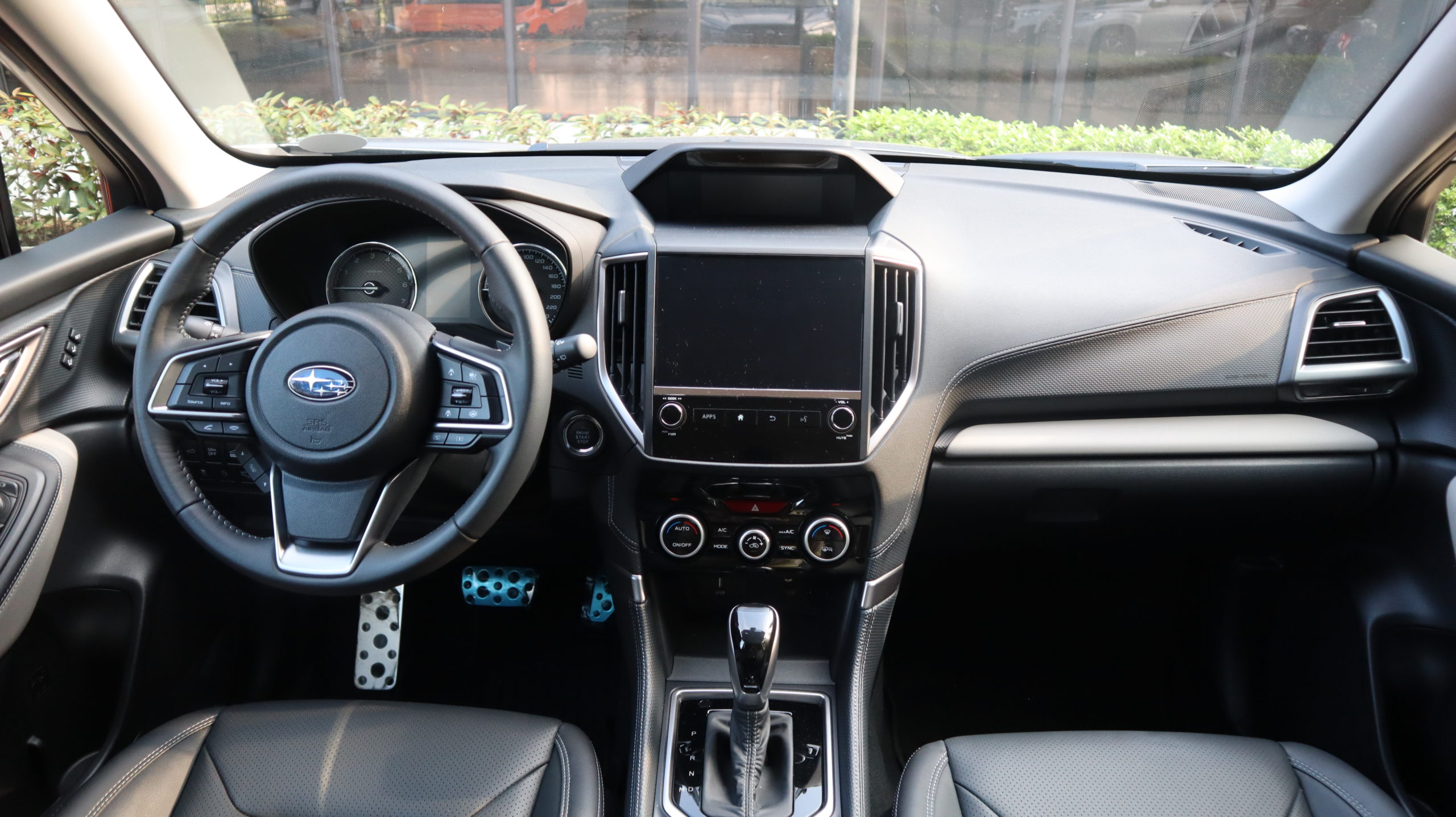 Howling Winds
It was time to make the journey in substantial "people-wanting-to-go-home-immediately" traffic, which prompted me to take a longer look and feel of the cabin. The strong winds on the outside felt like they came from an apocalyptic Hollywood film, so it was also a test of how refined this chassis can take the extreme conditions.
The interior of the facelifted Subaru Forester is quite… utilitarian. It's what we've come to expect from Subaru whom has always placed ergonomics and durability first over anything else. Despite varying textures, it is undeniable that various plastics occupy quite a bit of real estate in this interior. While it may not win the most awards in the styling department, it's terrific for being easy to clean! That's a big win.
However, faux leather and other soft-touch materials adorn the surfaces of this vehicle's cabin – including the supportive seats. These all make it a more comfortable place to be overall.
I didn't have to worry about my electronic devices either, since there are plenty of ports to go around the cabin. Wired Android Auto and Apple CarPlay are also available for those who want to flash their directions and Spotify playlists onscreen among other things.
Upon picking up the "big boss," I moved both our things to another location to allow her to sit more comfortably. I was not left without choice as both the rear seats and the rear cargo space are more than enough for most people, most especially for a couple. This car would be perfect for out-of-town trips and excursions thanks to the abundance of space. There's a bit of a transmission tunnel at the rear seat center floor, but more untall fifth passengers should be more than fine.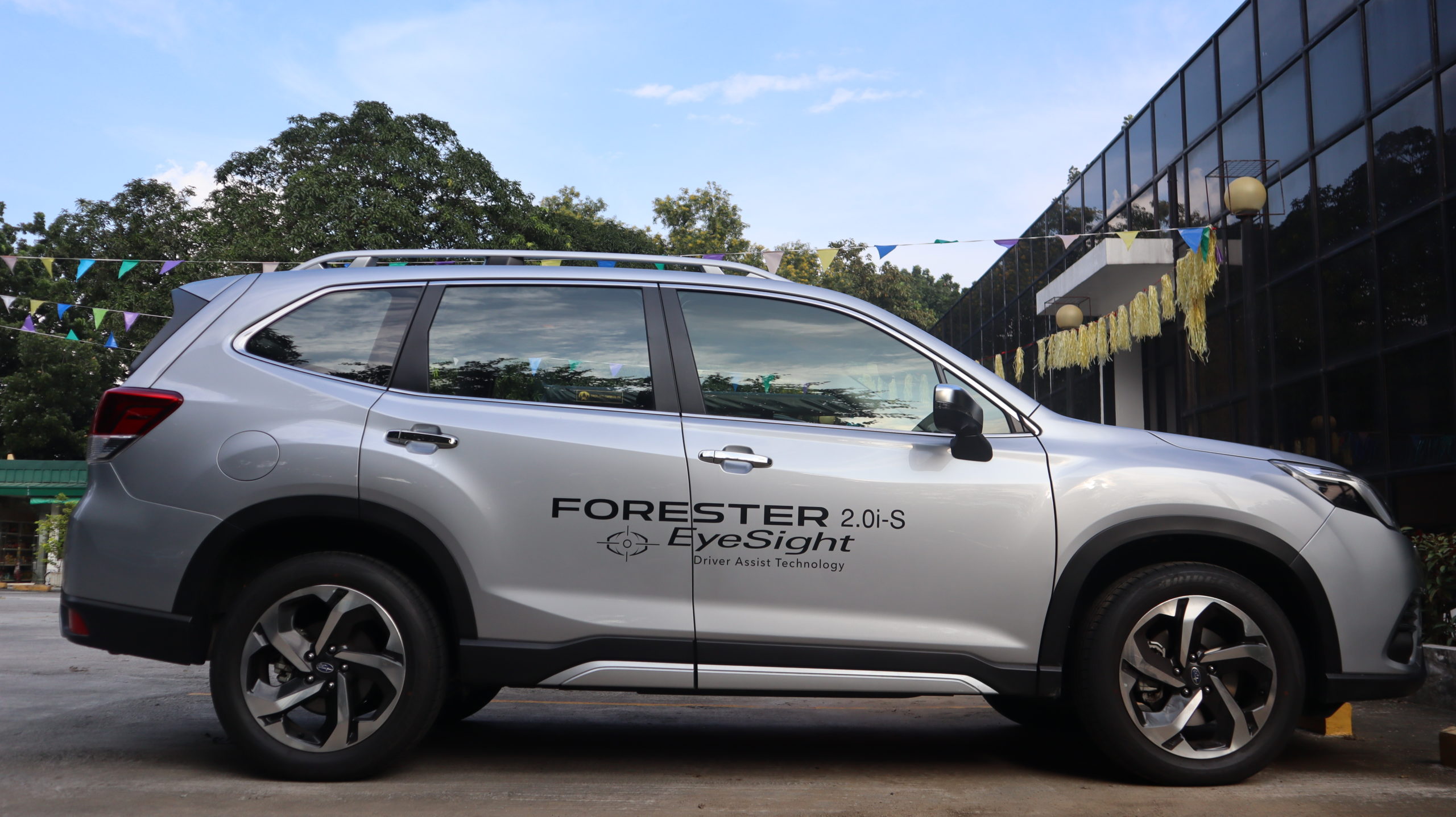 Movement In Calamity
There are a huge number of reasons why Subaru's tagline is "Confidence in Motion." In harsh, uncertain conditions, we experienced all of these firsthand.
As expected, the main avenues were teeming with panicking motorists and the depressing, endless line of taillights. We knew that passing through here would basically cement our fate of not making it in time for dinner despite leaving early. What was our next option then? Side streets and trips off the beaten path.
Through torrential rain and muddy, slightly-flooded roads, the vehicle's All Wheel Drive system was up to the task. We were sure that these weren't enough for us to trigger X-Mode, but we did it anyways to see how differently the system would handle it. Never did we experience struggle or difficulty. This is class-leading AWD for you, the brand's staple, pride, and joy. Where other vehicles would turn around to cower in fear, the Subaru Forester would bravely rise up to the challenge and ask for more. Wow.
Under the hood is a four-banger Boxer Engine resulting in a power output of 156PS with 196Nm of torque. This is mated to a Lineartronic CVT with manual mode and power shifters. We'll get this out of the way from the get-go: the Forester is not by any means quick. When you compare it to sporty models like the BRZ, WRX, or even the first Forester XT models, it is a turtle. Subaru has even stated a sluggish 0-100 kph time of 10.3 seconds.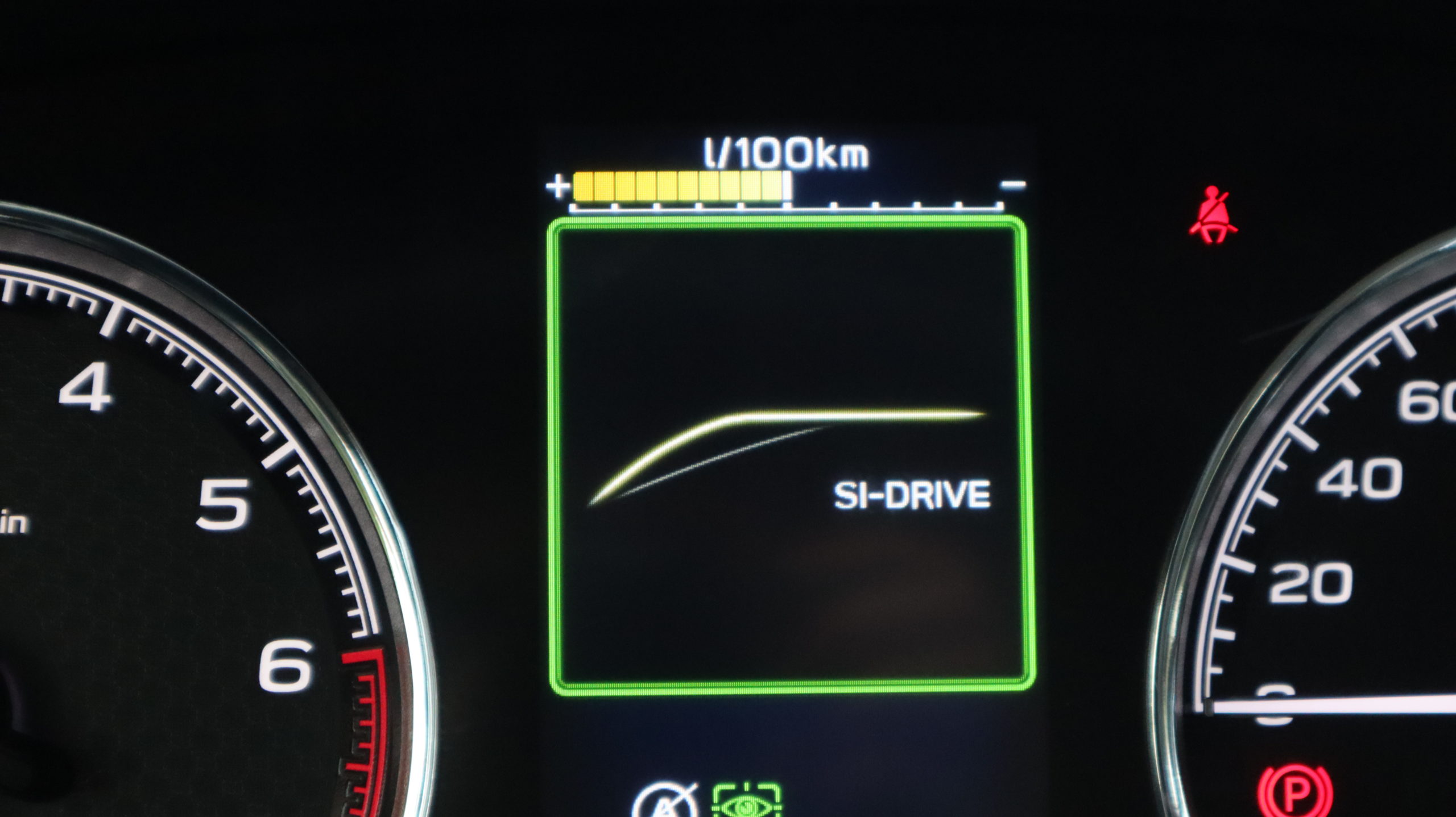 Playing with the SI-drive settings livens up the driving a little bit but it's no Type RA. The question remains though: does it have to be fast?
What this vehicle provides is a reliable and confident A to B drive. It addresses less of "how fast can it get there" and more of "how far can it go."
Don't misunderstand that by thinking this vehicle gets class-leading fuel economy. I'll stop you there. Figures on the sheet are at 13.5 km/l, although I averaged around 7-8. Maybe those figures can be achieved with some granny driving which definitely isn't what I did. What I mean is that this vehicle will take you where you need to be, regardless if it's off the beaten path or not.
The last confidence-pusher in this vehicle is simply how well the body complies with movement, stress, and admittedly dilapidated road conditions. Taking on twisties at speed? Fine. Have to go over a bad bump at a decent speed? No problem. It's a go-anywhere, do-anything type of vehicle and that's why I appreciate it so much.
We finally made it to our destination just before the restaurant called for the last order. Despite the traffic and bad conditions, we weren't stressed as the Subaru Forester gave us no reason to be.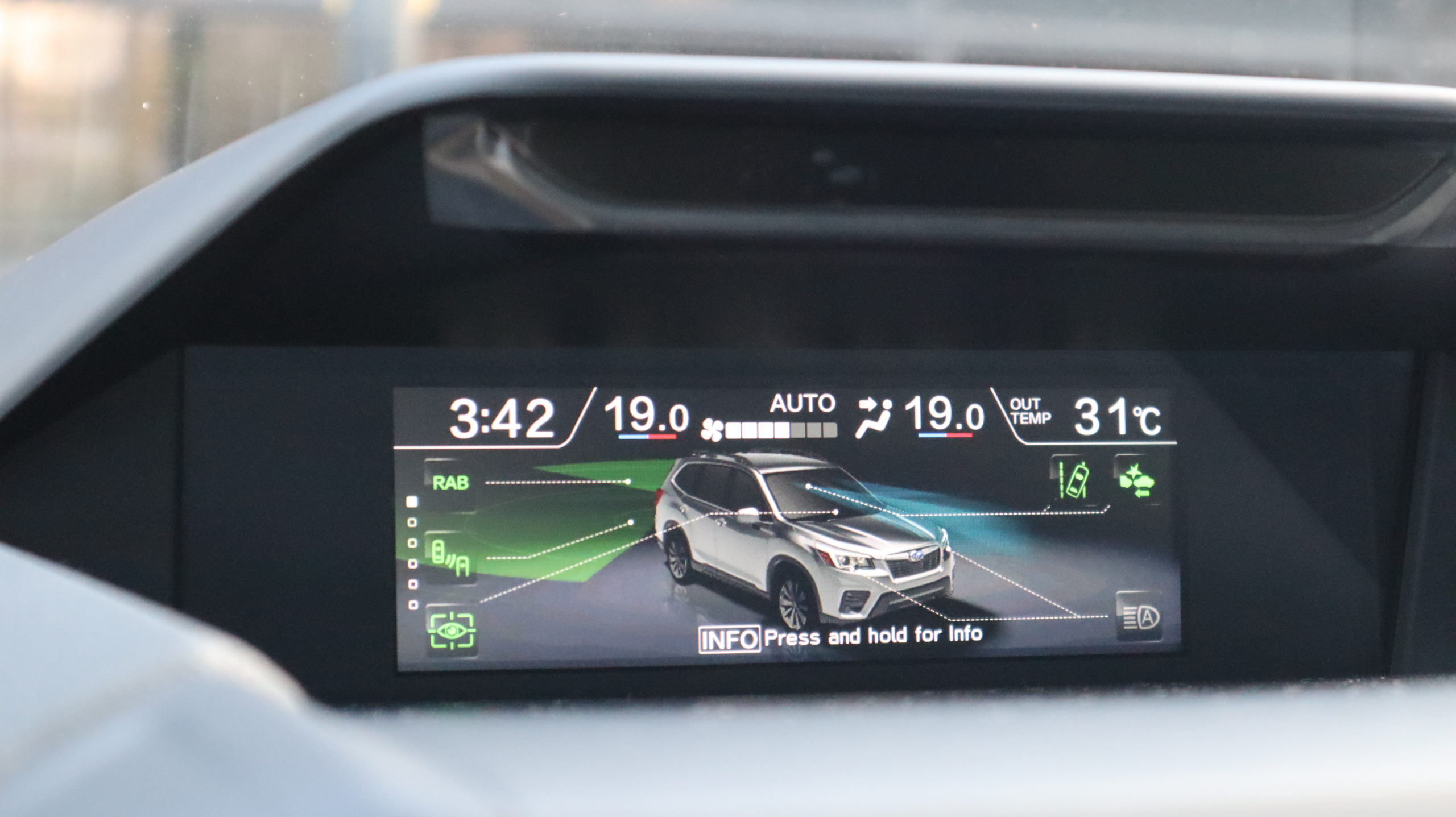 The Safe Journey Home
After a hefty meal and quality conversation, the rain was now hitting in full force. It was still way earlier than what was predicted on the news but we decided to set out and call it a night.
It is safe to say that the level of road visibility was one of the worst I've ever experienced in my years of driving. Add that to the motorists who still believe that putting their hazards on is the best thing to do in a heavy downpour (it's not! please don't), U-turning/counterflowing vehicles on one-way passages due to floods, and you have a confusing road ahead.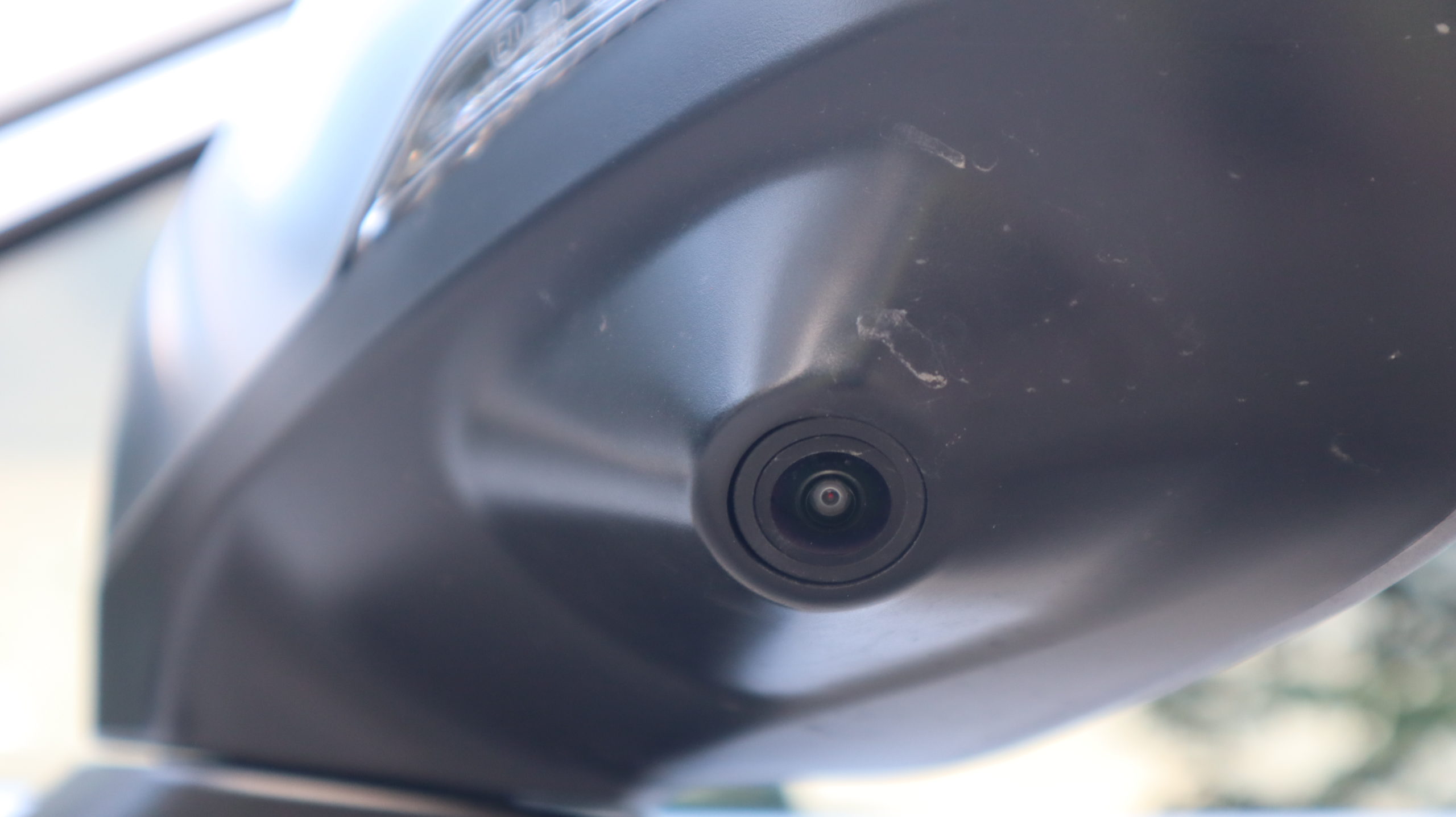 Thankfully, we were assured by the latest Subaru EyeSight 4.0 installed on this Forester. I had already known of its capabilities back at the brand's Technology Drive but this real-world test was just what I needed. Save for the quirky Iron Man-style facial recognition and User settings upon startup, the assortment of software really made my job easier as a driver on that day. Even in moments where I didn't directly need its functionality, the assurance of these being available to me when I need them gave me the push to drive more effectively.
Inclusions in the EyeSight 4.0 package are: automatic lane centering, lane departure prevention, autonomous emergency steering, driver monitoring, vehicle dynamics control system, active torque vectoring, auto vehicle hold, rear vehicle detection, rear autonomous braking, high beam assist, reverse automatic braking, and others.
Safety features such as well-researched crumple zones, 360-degree cameras, and SRS airbags also come standard.
Thanks to all of these as well as the overall package the Subaru Forester provides, I was able to drop her off and make it home in one piece as well. This vehicle may not be perfect, but it's a winner when the going gets tough. As such, the vehicle does well to carry on the brand's legendary and iconic legacy.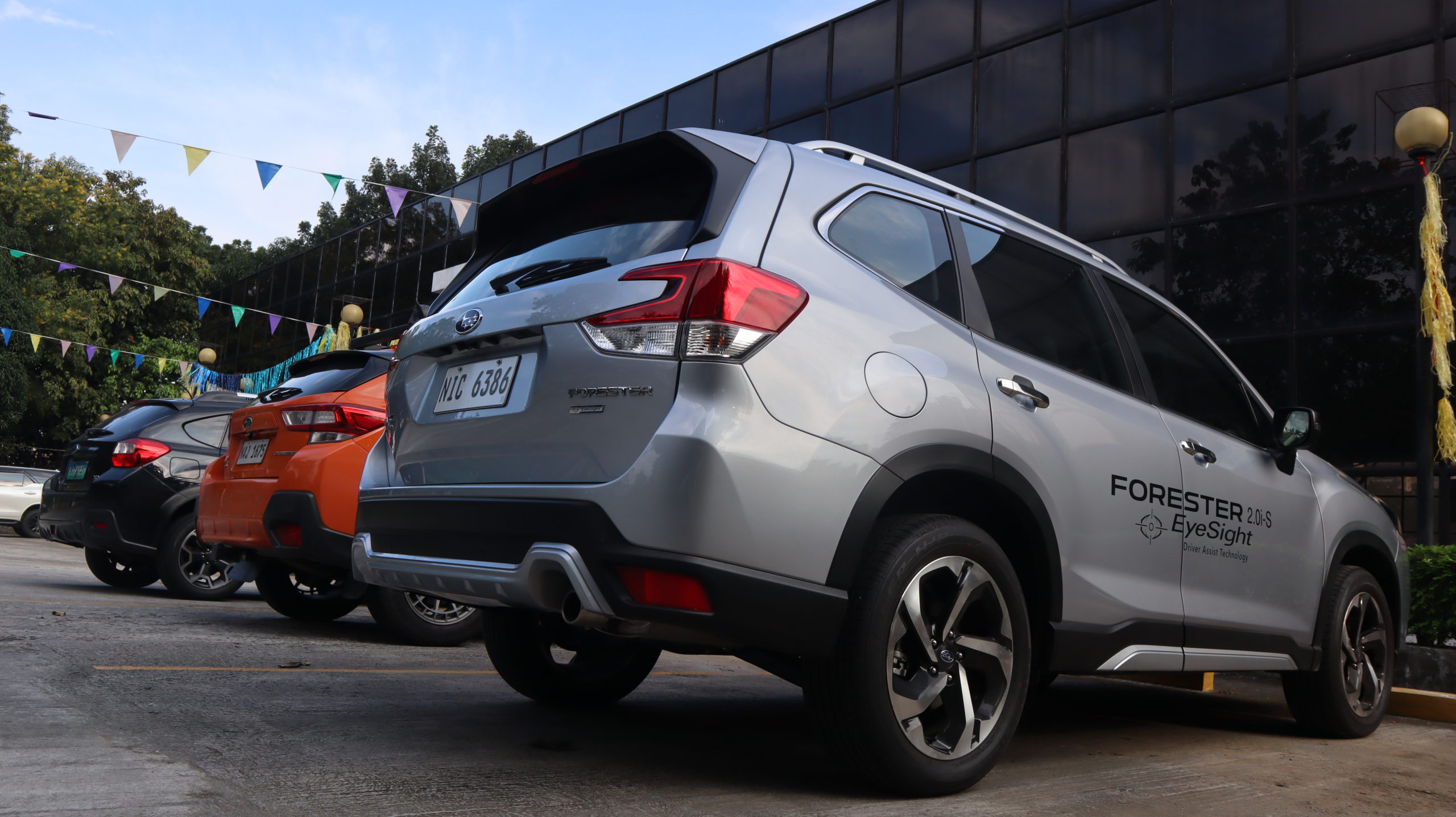 2023 Subaru Forester EyeSight Price Philippines
This specific Subaru Forester 2.0-iS EyeSight will set you back PHP 2.068M. Check out the car on the official site here.