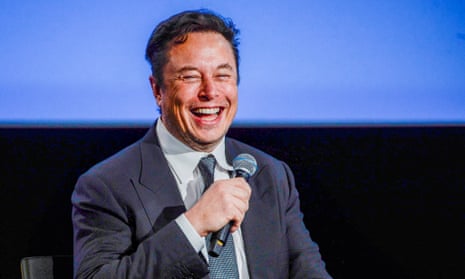 Elon Musk reclaims title of world's richest man after Tesla shares rise
Twitter owner's net worth reportedly grows to $187bn after precipitous drop in late 2022
Elon Musk is once again the world's richest man after a rally in Tesla's stock price on Monday boosted the Twitter owner's net worth by nearly $7bn to $187bn, according to the Bloomberg Billionaires Index.
Musk's recovery of the top spot from the French luxury goods magnate Bernard Arnault follows a precipitous drop in his wealth in late 2022, when he became the first person ever to amass and then lose $200bn. His wealth peaked at about $340bn in November 2022 and fell to about $128bn at the start of 2023.
Musk's personal wealth primarily derives from stock in Tesla. The electric carmaker lost nearly two-thirds of its value in 2022, amid investor concerns over weakening demand, Musk's distracting purchase of Twitter and the tumultuous start to his tenure atop the social media platform.
While Musk's troubles at Twitter continue, having reportedly fired an additional 200 employees over the weekend after already slashing the workforce from 7,500 to about 2,000 since October, the share price of Tesla has risen nearly 90% since the start of 2023.
On Wednesday, the company will hold its annual Investor Day at its factory in Austin, Texas, and Musk is expected to discuss future products, including the long-promised Cybertruck and Semi Truck, along with plans to expand its production infrastructure around the world.
One such plan was previewed on Tuesday, when the Mexican president, Andrés Manuel López Obrador, said Musk had promised him by phone that Tesla will build a new factory in the city of Monterrey. "This is going to mean a considerable investment and many, many jobs," López Obrador said.
Tesla already has plants in China and Germany, and analysts suggest it may expand to Canada as well as Indonesia.
The carmaker continues facing challenges, however, including increased scrutiny of its driver assistance technology. It announced a recall of 362,000 vehicles on 16 February after regulators said its Full Self-Driving Beta software did not follow traffic laws.
Shareholders filed another lawsuit on Monday against Musk alleging that Tesla's repeated exaggeration of its self-driving capabilities amounted to fraud.
Musk also keeps courting controversy through his erratic and provocative behavior online. After lifting bans on white supremacists, neo-Nazis and QAnon conspiracy theorists on Twitter, the billionaire has curried favor with rightwing trolls and activists.
On Monday, he threw his support behind Scott Adams, the Dilbert cartoonist whose racist rant in a recent YouTube appearance has led to the cancellation of his comic strip in US newspapers.