Owners of the second generation Apple TV (ATV2) are in luck today, as FireCore has released an updated Seas0nPass jailbreak. Updating the ATV2 to iOS 5.1 brings users the brand new Apple TV interface along with additional features. If you were waiting to update to iOS 5.1 until the jailbreak was released, now the coast is clear.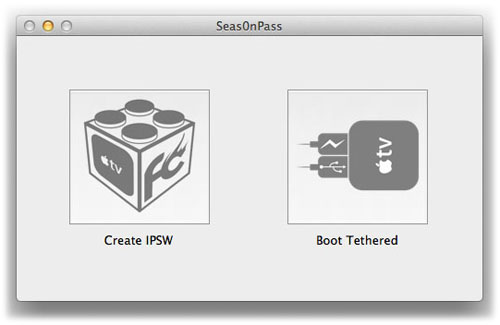 The Apple TV was recently updated to third generation hardware, with several improvements including a single-core A5 processor and 1080p HD support. At this juncture, ATV3 owners must remain patient while developers work on a jailbreak solution for their devices, which are shipped with iOS 5.1 preinstalled.
The ATV2 iOS 5.1 jailbreak is tethered, meaning that if the unit needs rebooting the device must be plugged into a computer beforehand. Unlike an iPhone or iPad, this isn't as much of a drag, since the Apple TV should rarely be disconnected or powered down. Apple explains that the iOS 5.1 firmware update brings several new features to ATV2:
New interface: – Fast, visual access to all content choices
Movie purchases in iCloud: Support for buying movies on Apple TV and playing back purchased movies from iCloud
Genius Recommendations: Recommendations for content on the iTunes Store based on previous rentals and purchases
Screensaver photos: New National Geographic photos built-in for screensaver
On-device sign-up: On-device sign up for content partners on Apple TV using your Apple ID
FireCore warns that author updates for the following plugins are not complete, so currently these items will not work with the iOS 5.1 update:
– Overflow
– Plex
– Remote HD
– Rowmote
– XBMC
Seas0nPass can be downloaded for free on OS X and Windows computers. To update your ATV2 firmware to iOS 5.1, navigate to Settings -> General -> Update Software and follow the instructions. To jailbreak the ATV2, you will need a micro USB cable to connect the device to your computer.