Neural Cloud has finally been released globally, It means that it's time for the tier list and characters recommendation for players to decide which Doll to focus on raising.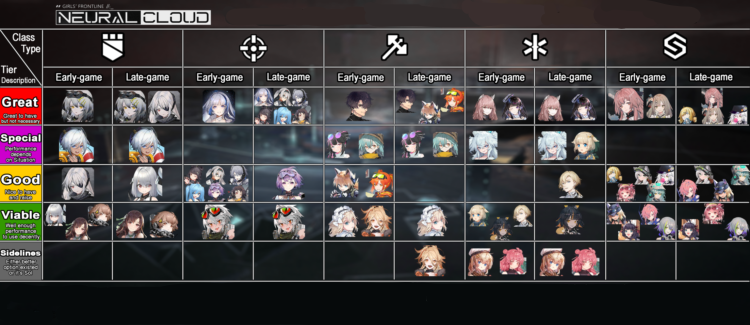 GUARD
SNIPER
RECOMMENDATION
CLASS
NAME
STARTING RARITY
COMMENT
HIGHER
SNIPER
CLUKAY
3★
The first anniversary limited Doll, and brings the firepower to justify it.
HAZE
3★
Long range, solid crits, good Ultimate.
HUBBLE
3★
AOE Sniper who will be relevant throughout, though her hybrid scaling is considered to be a weakness.
KURANE
3★
Solid end-game unit, though would like a degree of finesse.
KURO
3★
Another one for the end-game that would require a bit more skill.
TWIGS
3★
To pair up with a single-target sniper as AOE isn't great for bosses.
SIMO
1★
Essentially works as the old-reliable.
LAM
1★
Invest early, a lot, and win big, is the pitch. Ultimate is capable of deleting bosses.
LOWER
MAX
1★
'Bouncing' attacks with CC and True Damage, but will require investment with overall low stat growths.
EARHEART
2★
Dependent on crit, fairly high investment to get the high critical damage and defenses.
FRESNEL
2★
Decent for the early game and is pretty solid throughout. Her Line attack isn't always very useful though.
OCTOGEN
2★
Best known for high AOE Ultimate damage. Otherwise, situational.
SOCKDOLAGER
2★
Attacks can't miss. Can buff ally attack, solid AOE damage.
URANUS
2★
Solid attack capabilities, but mostly only for swarms.
FIGHTER
SPECIALIST
MEDIC
RECOMMENDATION
CLASS
NAME
STARTING RARITY
COMMENT
HIGHER
MEDIC
DELACEY
3★
All-round healer, buffs.
FLORENCE
3★
Buffs attack and provides damage reduction, especially useful for later game.
GIN
3★
High AOE heal, especially suited for enemies dealing damage over time.
HELIX
3★
Heals are focused on the lowest HP character so can be relatively situational. Ultimate is where it's at.
NANAKA
3★
AOE healer, good buff, ultimate can prevent ally deaths.
PERSICARIA
2★
Available for free, with the upgrade mats to boot.
JESSIE
1★
Clears debuffs, buffs, heals but requires high investment to get there.
LOWER
IMHOTEP
2★
Decent AOE heal, but needs to be closer to allies.
PANAKEIA
2★
A touch too RNG.
CHOCO
1★
Can be helpful for the early game, but can't keep up.
How to Download and Play Neural Cloud on PC with iandroid.eu
Download and install iandroid.eu on your PC
Complete Google sign-in to access the Play Store
Look for Neural Cloud in the search bar and install the game
Click the icon of Neural Cloud on your home screen to start the game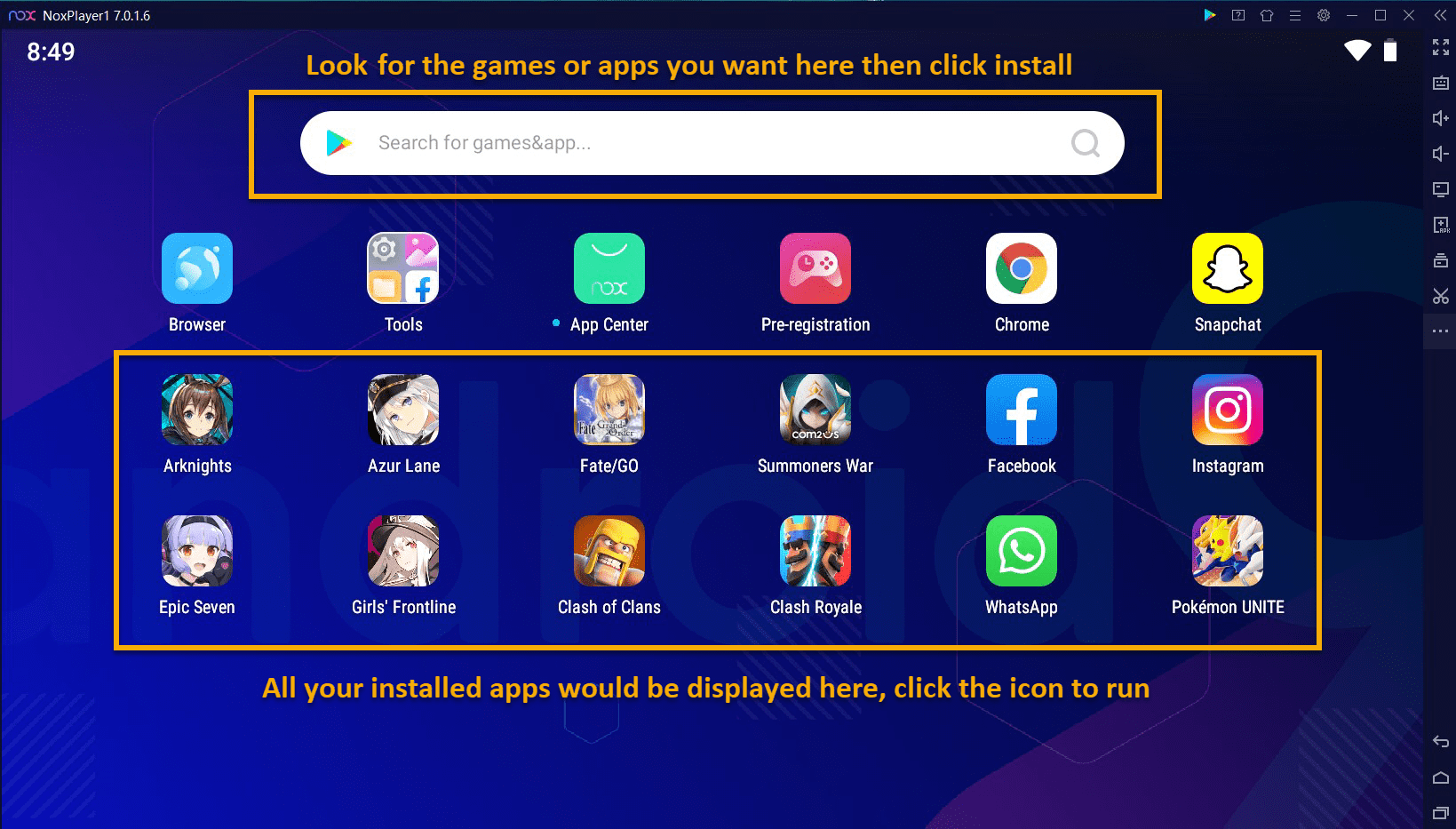 Visit our site: en.bignox.com
iandroid.eu is a free Android emulator for playing mobile games on PC and Mac, supporting Android 5, 7, 8, and 9, and compatible with Intel, AMD, and Apple processors. You can run iandroid.eu perfectly on commonly-used operating systems like Windows 7, 8, 10, 11, and iOS.
Download & Play Neural Cloud on PC