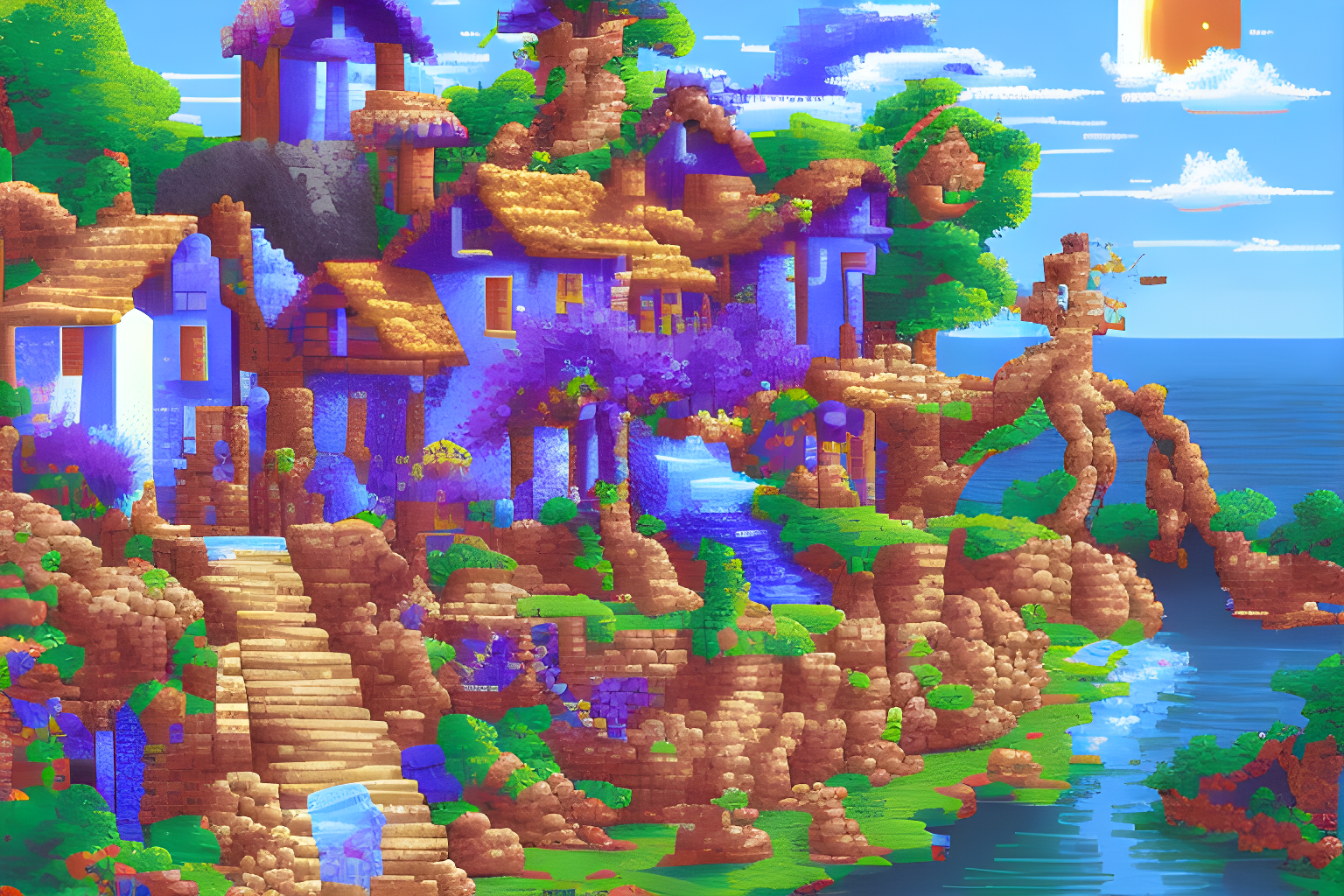 Pixel art is a form of digital art that involves creating images from pixels. A pixel is the smallest logical unit. PixelArt is more than just a picture-making technique; it is a unique form of creativity. The process of developing the image itself is important here. The artist draws a picture pixel by pixel and edits it manually.
In 1982, Robert Flegal of Xerox first used the term "pixel art". However, pixel art was already being put into practice as early as the 1970s.
No one knows exactly when pixel art originated, but it became popular in the 80s and 90s and is resurgent again in today's digital industry.
Any of us over a certain age remember Super Mario, Tanks, and other projects on the Super Nintendo and Sega's Mega Drive. This is pixel art.
The computer games industry was developing rapidly, and with the help of pixel art, it was possible to create simple but beautiful images. Such pictures were not demanding on the resources.
Pixel art was its peak in popularity during the 1990s. These are video games on consoles of the 2nd and 3rd generations. Later, 8-bit color, the True Color technique, and 3D graphics appeared, which forced pixel art off its pedestal of popularity.
But today, there is nostalgia for pixel art. The creativity of the 1990s is returning to the modern world as a fashion item to stand out and offer a unique product.
Non-fungible tokens helped revive pixel art, and today many artists create entire collections of such images. Pixel Art based NFT is an easy and affordable way to create author tokens.
Top Pixel Art Software
To create pixel art, you need to install a special program on it. Next, let's take a look at the top pixel art apps.
This is a special program that suits beginners without skills. It allows you to create pixelated images and turn them into an NFT, or one-time fungible token.
This is a new type of ERC721 token. It is a 100×100 canvas with 10,000 positions. Each square on the canvas is a pixel in a certain position; it is called a dot. Each token is a canvas on which you can create a pixelated image by filling all the dots with colors.
After minting a token, it can be filled with a picture only once. The initial release involves 10 thousand canvases, each measuring 100×100. Each wallet can mint 10 tokens. The LeDot community will be updated with information, and you will be able to find out when tokens can be minted.
If you minted or bought a canvas, you can create your own NFT on it. The functionality includes a number of tools for experimenting with colors and using various types of dot filling mechanics. With the autosave option, all your actions will be saved every 15 seconds.
The finished canvas is saved to the website, and your metadata is updated. Now your NFT is ready to be published and then sold at will.
Before the end of the public sale, LeDot users can familiarize themselves with the NFT creation tools and try to create their own pixel art.
PiskelApp
This is a free online editor to create sprites (pixel animations). You can store your pictures online or import them into another program. This editor is very handy and makes it easy to create pixel art quickly.
GIMP
This graphics editor is open source. It is used not only to create pixel art but also to process photographs. It has wide functionality and many useful tools for professional editing.
PyxleOS
This is a handy program to create pixel art. It is open source; you can pick up tools and create copyrighted images.
Pixie
This is an online pixel editor for beginner artists. On a white canvas, you can draw by hand and realize bold fantasies in your work.
Pixlr
This is an advanced program with wide functionality for artists in the style of Pixel Art. Finished pictures can be stored online and used to create sprite sheets.
Adobr Illustrator
This is a universal graphic editor in which you can create logos, illustrations, process photos, and create pixel art. The program has a lot of functions that you need to gradually become familiar with. You will be able to use many useful tools when creating your images.
CorelDraw
This is a universal program for graphic design with flexible settings. You can use a simple, free version for beginners or subscribe to a full package of tools for professional artists.
Most Popular Pixel Art Projects
The world already knows many pixel projects that have won the hearts of fans. Consider the most famous among them.
Cryptopunks
Today, Cryptopunks pixelated images are the most popular for finding and creating PFP collections. The project consists of 10 thousand pixel images; each image has a resolution of 24×24, 8 bits. Snoop Dogg or Jay-Z, for example, use their punk as their Twitter avatar.
In 2022, Cryptopunks cards were given away for free, and it was the largest NFT airdrop in history. Today, punks are highly valued and rare collectibles.
There are many original alternatives for cryptopunks – these are SolPunks, Fast Food Punks, Picasso Punks.
Randos
This is a popular collection of NFT Pixel Art from the Yubo team, which can be a profitable investment. Yubo is a highly rated social media app for live streaming.
The Randos collection consists of 10 thousand digital objects stored on the Ethereum blockchain. Each picture is a unique pixel character with its own slogan. The images were created by digital artist BanFan.
NFT Rando owners will be able to earn passive income, participate in Yubo events, and get an exclusive avatar in the Yubo Metaverse.
Meebits
This pixel project was created by the Larva Labs team. The collection contains 20 thousand NFTs on the Ethereum blockchain. One token is an exclusive "voxel-based" symbol.
Nine thousand objects from the collection were sold for 70 million dollars in the first few hours after the launch.
In the future, Larva Labs is going to bring their NFTs to the metaverse.
ApeGang
This is a collection of 10 thousand objects. They are generated using Python, are in PNG format, and are 50×50 in size. Each picture can be enlarged up to 500×500.
Each pixel image has its own unique properties, generation through the program occurs by selecting 149 different features (eyes, mouth, ears, clothes, a hat, fur, etc.).
BitCats
This is a new collection of NFT pixel art, which consists of 81 Genesis BitCats and 1024 GenBitCats. All tokens are placed on the Ethereum blockchain. This collection is the basis for launching the GenBitCats Metaverse.
Conclusion
The renaissance of pixel art comes at a time when the crypto industry is booming. Creating NFTs with Pixel Art is an efficient and convenient way to create unique images and sell them. Such collections become the foundation for launching crypto projects and metaverses, opening up new opportunities for the development of Web 3.0.
L O A D I N G
. . . comments & more!