What is Venolock ransomware?
Venolock ransomware is a virus that holds all personal files hostage until a ransom is paid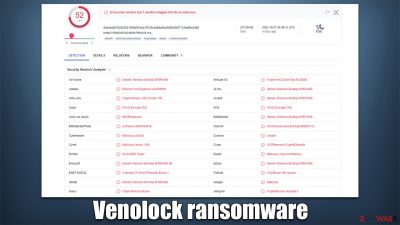 Venolock is a ransomware-type virus that holds data hostage until a ransom is paid
Venolock is a malicious Windows program designed by cybercriminals to profit from innocent users whose files get locked in the process. After entering the system using deceptive methods, such as spam emails or phishing messages, this malware begins encryption,[1] appending each file with the .vn2 extension and the user ID, making them unreadable. This process is known as encryption, where complex algorithms are used to prevent data from being opened.
Once that is finished, the Venolock virus delivers a ransom note ALL YOUR FILES ARE ENCRYPTED.txt, which is essentially a message from cybercriminals. Malware authors explain that victims have to pay a ransom in bitcoin for a private key that would decipher all the locked files. They also provide a contact email [email protected] for communication purposes.
Venolock ransomware stems from a well-known family of Zeppelin, which is known to mainly target corporate networks, lock all files on them, and steal sensitive information in the process.[2] Crooks also claim that if the demands are not fulfilled in time, they will disclose corporate information on the dark web.
Name
Venolock virus
Type
Ransomware, file-locking malware
File extension
.vn2 + User ID
Malware family
Zeppelin
Ransom note
ALL YOUR FILES ARE ENCRYPTED.txt
Contact
[email protected]
File Recovery
The only secure way to recover data is through backups. If such isn't accessible, or if it has been encrypted, recovery alternatives are extremely limited; we'll go over all of them below
Malware removal
Remove the computer from the network and the internet, then run a comprehensive system scan using

SpyHunter 5

Combo Cleaner

security software
System fix
If malware is installed on your system, it could potentially delete or damage vital system files, which often leads to crashes, errors, and other stability issues. You can use PC repair

Reimage

Intego

to fix any of these problems automatically
The ransom note
Zeppelin is one of the more known malware strains out there – it has been operated by cybercriminals for many years now successfully, and numerous variants of the virus have been spotted in the wild, including ORCA, CRYPTCAT, Loplup, and many others. While it may differ from version to version, the main operating principles remain the same.
Once installed on the device, Venolock ransomware would first alter how the system operates, steal various valuable information from the network, lock files, and only then would it deliver a ransom note, ALL YOUR FILES ARE ENCRYPTED.txt, which reads as follows:
ALL YOUR FILES ARE ENCRYPTED

***All your data has been compromised. Documents, photos, databases and other important files are encrypted.

***You cannot decipher them yourself! The only method for recovering files is by purchasing a unique private key. Only we can provide you with this key and only we can restore your files.

***The decryption key fee is charged only in bitcoins, we CAN assist in buying bitcoins by giving instructions on how and where to buy.

***In case of non-payment, all data will be put up for auction on the darknet. Beware of data leaks.

***To make sure we have a decryptor and it works, you can send an email to [email protected] or [email protected] and decrypt one not important file for free, DO NOT send files containing databases, any XLS / XML documents for the test.

***Beware of dishonest middlemen. as well as buying a decryption key through intermediaries increases the final cost of the key.

***Do you really want to restore your files?
Write to email: [email protected]
Your personal ID: –

Attention!
* Do not rename encrypted files.
* Do not try to decrypt your data using third party software, it may cause permanent data loss.
* Decryption of your files with the help of third parties may cause increased price (they add their fee to our) or you can become a victim of a scam.
Additionally, according to this statement, users shouldn't rely on alternative data recovery strategies. This is understandable, given that hackers have no need to employ these techniques other than to receive payment. As communicating with the attackers would simply serve to confirm that their illegal operation is successful, we strongly advise against doing so. Check out the information below to learn how to get rid of the Venolock virus from your system before attempting to recover files using different methods.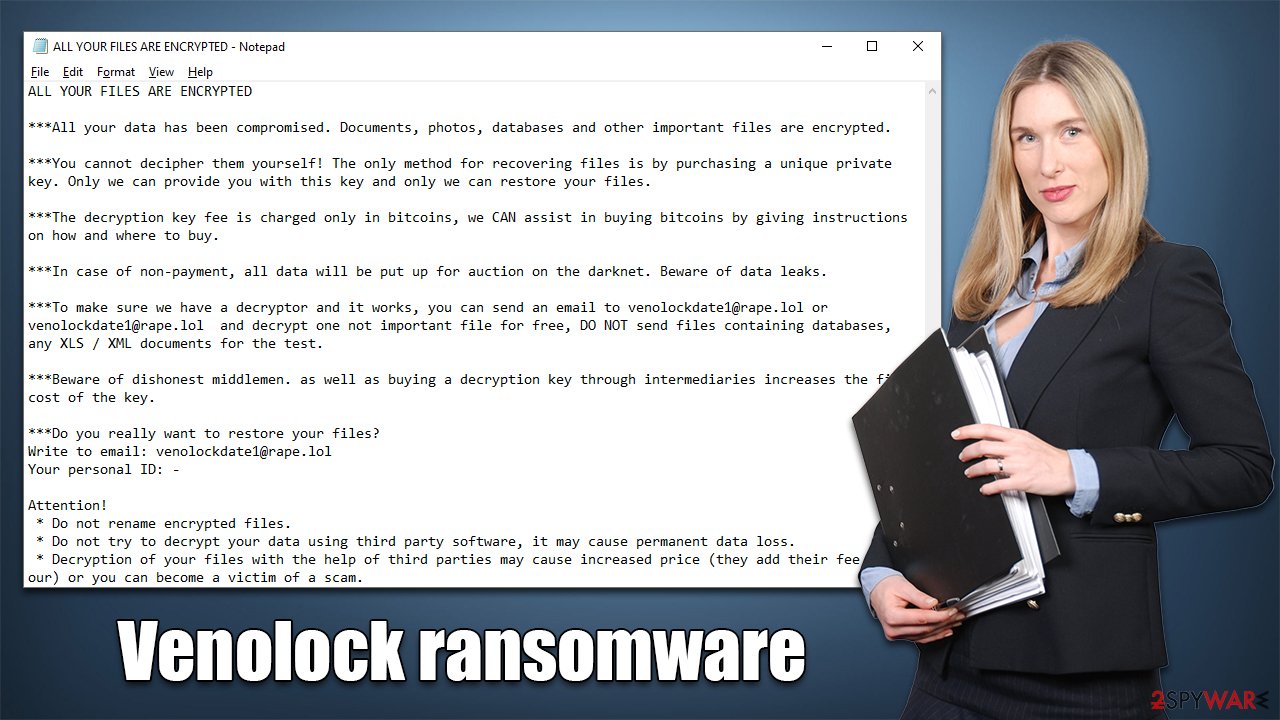 Venolock is a type of malware that may result in personal file loss and corporate data disclosure to malicious parties
Malware removal and system fix
A PC can no longer be regarded as secure to use once malware has been installed on it. If a network is available, the infection may spread through it and possibly start the installation of further malicious software. Under specific conditions, criminals may even access users' PCs remotely by using a remote connection over the internet. Dropping this link is, therefore, essential before continuing with ransomware removal.
Although it is doable, manual malware removal is not advised; security software is the best choice. You can use SpyHunter 5Combo Cleaner or Malwarebytes to automatically detect and remove all harmful components from your system. Your primary line of defense against malware attacks should be security software, however, it's always preferable to try to prevent infection in the first place.
After the infection has been removed, we strongly suggest you utilize the ReimageIntego PC repair tool. Malware may corrupt Windows system files, and security applications may not be able to fix it. Users may consequently encounter system crashes, BSODs,[3] errors, and other typical technical issues as a result of malware cleanup. The repair program has the capacity to add new system files in replacement of corrupted ones.
How to restore .vn2 files without paying
Once the malware is gone, and your system recovered, the encrypted data cannot be changed back to its original state. The reason is that decrypting uses a unique key that is only held by ransomware creators on their remote servers.
The most foolproof method to avoid being locked out of your data in a ransomware attack is to have backups of everything important. If you don't already have copies, attempting to get access to your information could be very difficult, if not impossible. However, you should not immediately lose all hope.
If you don't have backups, your options are to wait for a decryptor tool to become released or employ data recovery software. Remember that it's best to make copies of all encrypted data if you don't already have functional backups in order to avoid accidentally corrupting them while trying to retrieve them.
There are hundreds of security companies and organizations working to stop ransomware creators. In some cases, they have been successful in seizing servers containing decryption keys, which allows the keys to be released to the public. Below you will find a list of the most prominent parties involved in free data decryption services; these services have already helped millions of victims worldwide. Please keep in mind that an alternative decrytpion tool might take a while to create – sometimes it isn't possible even after years of waiting.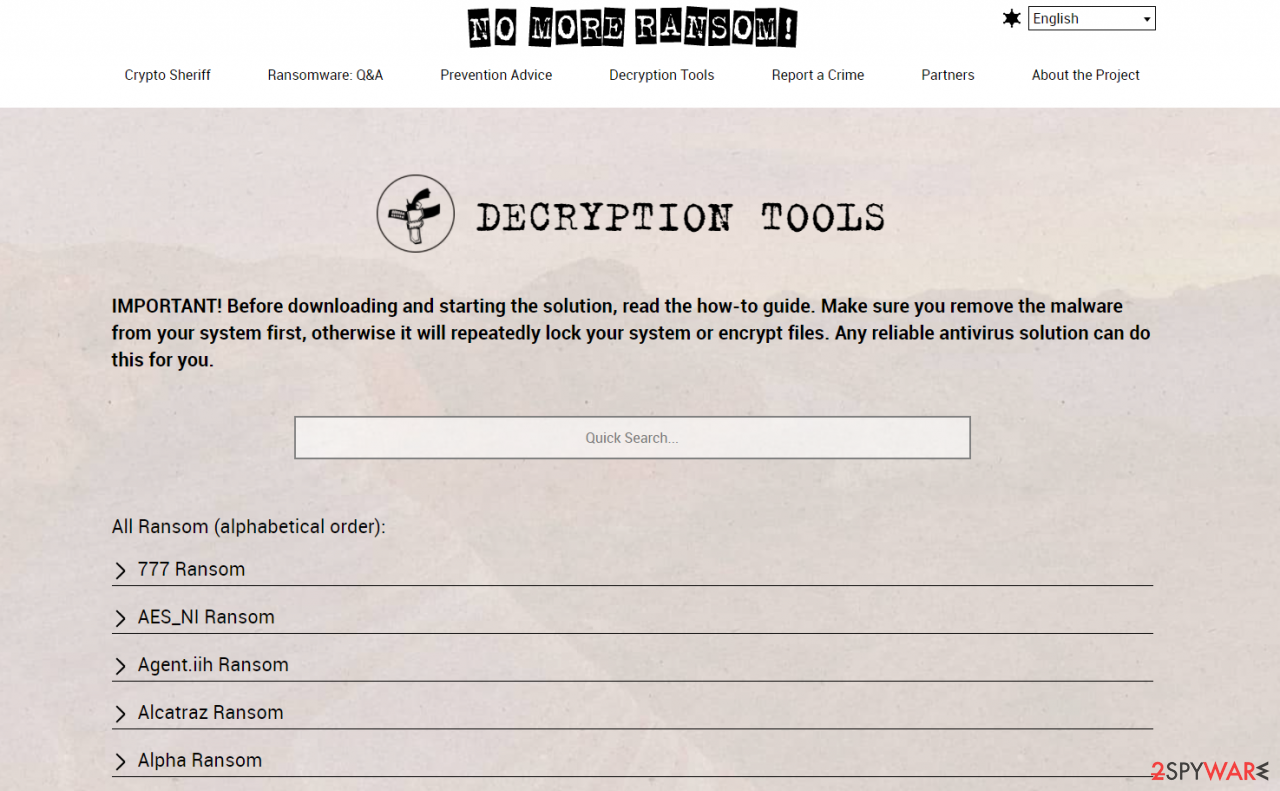 There are several ways how to make your online time more private – you can access an incognito tab. However, there is no secret that even in this mode, you are tracked for advertising purposes. There is a way to add an extra layer of protection and create a completely anonymous web browsing practice with the help of Private Internet Access VPN. This software reroutes traffic through different servers, thus leaving your IP address and geolocation in disguise. Besides, it is based on a strict no-log policy, meaning that no data will be recorded, leaked, and available for both first and third parties. The combination of a secure web browser and Private Internet Access VPN will let you browse the Internet without a feeling of being spied or targeted by criminals.
If you wonder how data loss can occur, you should not look any further for answers – human errors, malware attacks, hardware failures, power cuts, natural disasters, or even simple negligence. In some cases, lost files are extremely important, and many straight out panic when such an unfortunate course of events happen. Due to this, you should always ensure that you prepare proper data backups on a regular basis.
If you were caught by surprise and did not have any backups to restore your files from, not everything is lost. Data Recovery Pro is one of the leading file recovery solutions you can find on the market – it is likely to restore even lost emails or data located on an external device.